Welcome to the Christianity Forum | NLMBC Benton
Jul 19, 2020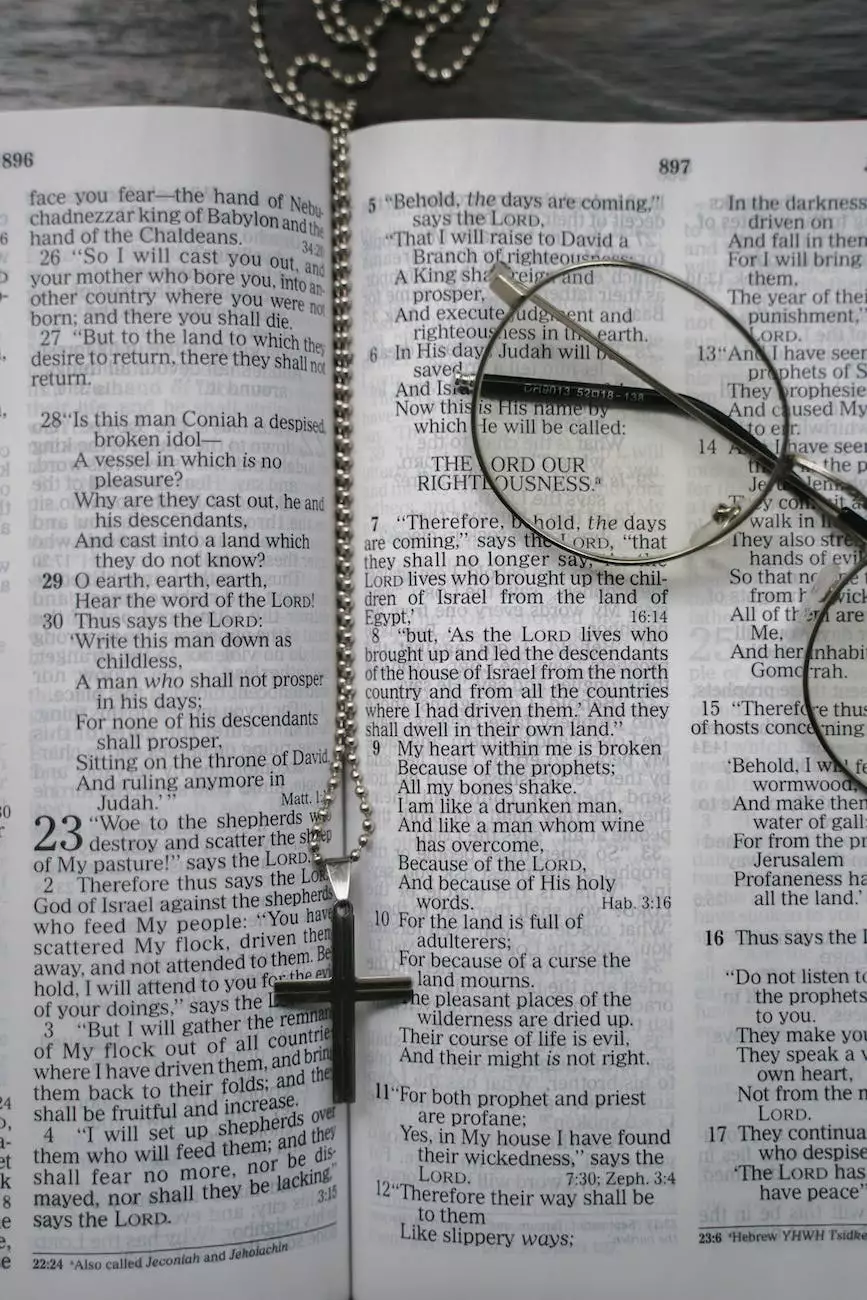 The Vibrant Christian Community at Cliff Terrace Assembly of God
Welcome to the Christianity Forum, hosted by Cliff Terrace Assembly of God in Benton! Here, you can explore various aspects of Christianity, join discussions, and gain spiritual insights. Our Christian community is dedicated to promoting faith and beliefs, serving as a platform for individuals to engage in meaningful conversations with like-minded individuals.
Exploring the Depths of Christianity
At the Christianity Forum, we strive to delve into the depths of Christianity, delving into its history, doctrines, and teachings. Our community aims to foster a greater understanding of what it means to be a Christian, offering a wide range of topics for discussion and exploration.
1. Biblical Studies and Interpretations
Engage in captivating discussions surrounding biblical studies and interpretations. Explore the historical context, symbolism, and significance of different passages and gain unique insights into the teachings of the Bible. Our forum encourages diverse perspectives and aims to deepen your understanding of God's word.
2. Christian Lifestyle and Values
Discover the Christian lifestyle and values that guide believers in their daily lives. From cultivating gratitude and practicing forgiveness to embracing love and compassion, our forum provides a space to learn from one another's experiences and encourage personal growth through faith.
3. Spiritual Growth and Development
Nurture your spiritual growth and development as you engage in conversations focused on deepening your relationship with God. Share your personal testimonies, receive spiritual guidance, and seek advice on navigating the challenges of faith. Our forum is a place of encouragement and support for believers in their journey towards a more profound spiritual connection.
4. Christian Fellowship and Community
Experience the joy of Christian fellowship and community by connecting with fellow believers through our forum. Share your prayer requests, celebrate moments of triumph, and find solace during times of struggle. Discover the beauty of fostering meaningful connections with others who share your faith.
Join the Christianity Forum Today
Immerse yourself in the vibrant world of Christianity at Cliff Terrace Assembly of God's Christianity Forum. Be part of a community passionate about embracing faith and beliefs while engaging in insightful discussions. We welcome individuals from all walks of life to join us on this enriching journey. Register today and embark on a journey of spiritual growth and exploration!
Join Us at Cliff Terrace Assembly of God
Cliff Terrace Assembly of God is a thriving Christian congregation located in Benton, dedicated to spreading the love and teachings of Jesus Christ. We strive to be a welcoming and inclusive spiritual home for all who seek God's presence.
Our church offers a variety of programs and ministries that cater to different age groups and interests, allowing our members to connect, grow, and serve together. From inspiring worship services to engaging Bible studies and community outreach initiatives, Cliff Terrace Assembly of God provides a nurturing environment for individuals to deepen their faith and make a positive impact on the world around them.
Whether you are new to Christianity, seeking a new church community, or simply looking for spiritual guidance, we invite you to join us at Cliff Terrace Assembly of God. Experience the love of Christ, find purpose in your life, and cultivate lasting relationships with fellow believers.
Worship Services
Our worship services are filled with meaningful music, inspiring messages, and opportunities for personal reflection. Join us every Sunday morning as we come together as a community to praise and worship God.
Bible Studies and Small Groups
Deepen your knowledge of the Scriptures and connect with other believers through our Bible studies and small groups. Engage in discussions, ask questions, and grow in your understanding of God's word alongside fellow seekers of truth.
Community Outreach
We believe in making a positive impact on our local community and beyond. Join us in various outreach initiatives, serving those in need, and spreading God's love through acts of kindness and compassion.
Youth and Children's Ministry
Our dedicated youth and children's ministry provides a safe and nurturing environment for young individuals to grow in their faith. Through engaging activities, mentorship, and age-appropriate teachings, we aim to equip the next generation to become passionate followers of Christ.
Grow in Faith and Belong to a Thriving Christian Community
Cliff Terrace Assembly of God offers a warm and welcoming spiritual home for individuals seeking to grow in their faith and belong to a thriving Christian community. Join us today and experience the transformative power of God's love in your life!